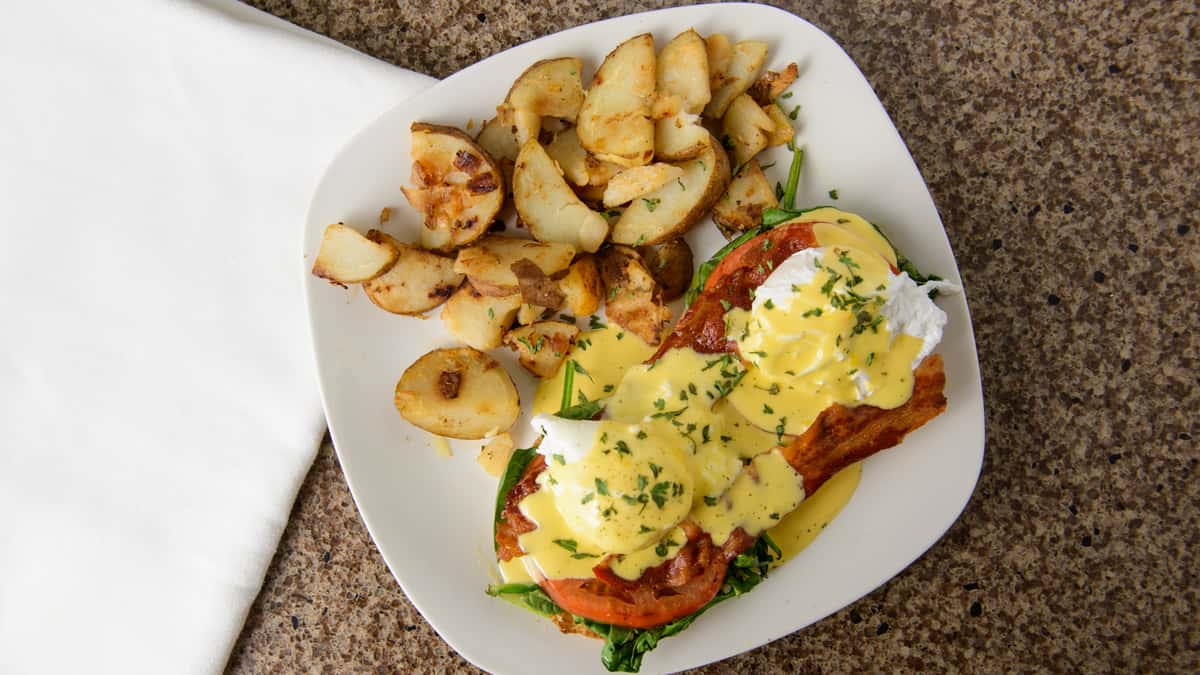 Menu
Become a VIP
Be the first to receive updates on exclusive events, secret menus, special offers/discounts, loyalty rewards & more!
Menu
Ultimate Omelettes
3 large eggs in all omelettes, served with a side of our house-cut homefries and toast!
Gluten-free toast add $1.79.
French Toast & Waffles
Gluten-free French toast and waffles +$4.50
Specialty Pancakes
We serve 3 large pancakes cooked to a golden brown! Made with our in-house sweet buttermilk batter.
Gluten-free Pancakes add $3.50
Breakfast Features
Eggs how you like them! 
Gluten-free Toast add $1.79.
Benedicts
All benedicts come with our made-from-scratch hollandaise and our house-cut homefries.
Make them Gluten-free +$1.79.
Garden Fresh Salads
All large salads are made with an organic Arcadia Harvest lettuce blend and served with a fresh-baked muffin. Locally sourced when available, sustainable.

Add Protein: Norwegian ABF Salmon +$6.90 | Choice grade USDA Flat Iron Steak +$6.90 | Chemical-Free, No Preservatives Shrimp +$5.90 | Hormone-Free ABF Chicken +$5.90
Specialty Sandwiches
Sandwiches are served with homefries or house-made potato salad. Upgrade to a Cup of Soup, Small Tossed Salad, or Fresh Fruit +$2.50. Gluten-free Toast +$1.59
Best Burgers
Our handmade half-pound burgers are cooked medium-well or as requested, they are served on a roll with a side of homefries, or potato salad. 

Upgrade to a cup of soup, small tossed salad, or fresh fruit +$2.50
Crêpes
Thin, delicate French pancakes that we fill with a variety of selected ingredients. 
Served with a fresh-baked muffin and choice of homefries, potato salad, soup, tossed salad, tomato slices, or fresh-cut fruit.
Quiches
Fresh-baked, egg-based pies that we will with a variety of selected ingredients
GM
Gluten-Free Modification
We offer gluten-free items, but we are not a gluten-free environment.

*Our scratch-made hollandaise is made with raw egg yolks. Eating raw or undercooked meats, eggs, poultry,

Shellfish or fish increases your risk of contracting a food borne illness, especially if you have certain medical conditions. 

Parties of 6 or more may have gratuity included.